10 Garage Storage Ideas to Get More from Your Space
Got a garage, but not making the most of it? No worries. We've got you covered. These simple DIY garage storage ideas will help you transform it into more.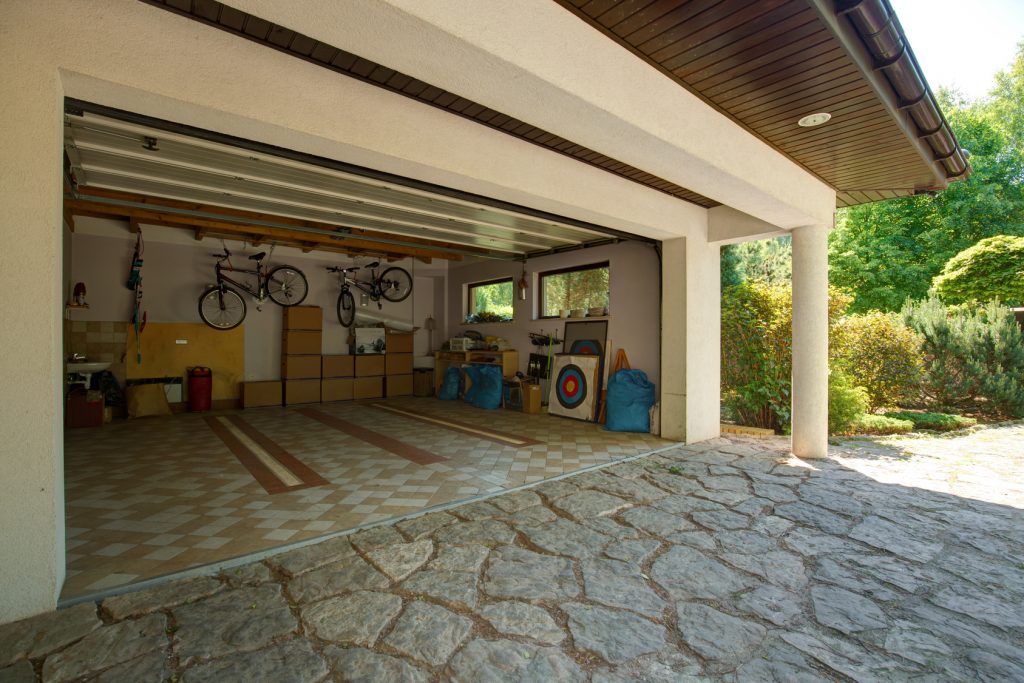 Do you own a garage that could use a bit of TLC? Organizing your garage not only makes the space look nicer, but it makes it much easier to find things you need.
While just about everybody dreads having to clean out their garage, it is definitely worth doing and keeping up. You can always have a spring cleaning day where you organize your whole home plus your garage to get the whole thing out of the way.
Luckily, we found ten of the best garage storage ideas to help make the process a little less stressful.
Check out these super helpful garage storage ideas!
Ten Garage Storage Ideas To Help You Organize
You can't beat these awesome garage storage ideas.
Caddy Shelves
If your garage has some cabinetry that you're having trouble using well, consider getting some caddy shelves.
Caddy shelves are handy additions you can add to cabinetry that can be made in different sizes to fit your space. These handy custom organizers are great for storing smaller items that tend to get lost in garages.
The days of tossing small things into tubs are over– a caddy shelf will allow you to access these smaller items with ease.
Large Tape Dispensers
If you're handy with a hacksaw blade, making a tape dispenser is fairly easy and makes pulling out heavy-duty tape much easier.
Think of the mechanics of a toilet paper roll– simply apply this idea to a wooden wall-mounted dispenser that allows multiple rolls of tape to be pulled out with ease.
Not only is this hack time-effective and cost-effective, but it'll leave you wondering why you didn't consider making one before.
Sliding Ceiling Storage Systems
This idea has become fairly popular with DIY fans, and for good reason. There's so much space at the top of your garage that when properly accessed can drastically reduce the amount of clutter that takes up the floor of your garage.
Creating long wooden bars with properly measured flanges will hold large plastic tubs of seasonally-needed items like Christmas decorations when you don't need them.
You'll need a ladder to put up and take down the tubs, and that's why this DIY idea is best for storing things that aren't regularly used.
Bike Mounts
If you have a bike (or several bikes) that takes up a lot of space in your garage with its bulky frame and wheels, consider putting up a wall mount for your bike in your garage.
You can totally DIY a wall mount on your own, but you can also settle for ready-made bike mounts as well. They're definitely plentiful.
PVC Pipe Storage Mounts
This interesting DIY is great if you have a saw and some extra PVC pipe lying around.
Simply cut sections of PVC piping horizontally and mount the pieces to a board that can be mounted to your garage wall.
Label each PVC pipe with colored tape and Sharpie marker to designate which long-handled tool belongs in which PVC pipe holder. This is optional, of course, but it helps keep things nice and organize.
Now you can easily slide tools like rakes and shovels into these slots in your garage. The days of trying to balancunwieldydy tools in the corner of your space are long over!
Use Those Studs
If you own a garage with a lot of exposed studs in the wooden frame of the space, you should definitely be using them.
Hang things like wheels, tennise rackets, and other mountable items on these studs.
If space allows for it, consider getting a paracode net with hooks to join a pocket of space together between studs to hold things like basketballs and footballs.
Scooter Parking Spots
Scooters are definitely coming back in style. And if you have multiple family members that own these fun recreational items, you know that they are kind of a pain to store upright.
Creating a simple slotted wood parking spot to keep in the corner of your garage will keep these awkward items parked upright and not on the floor of your garage.
Screwdriver Coat Rack
Not only is this DIY project easy and very useful, but it is also super cute as well.
Simply take a wooden shelving board and drill evenly-spaced holes into it.
Got a ton of old unused screwdrivers lying around? Clean them up a bit and paint them. Insert the dried screwdrivers into the holes handle facing up and mount the board to your wall near where you enter your home through the garage.
Viola! You have a cute coat rack that can be used for hanging bags, purses, and sports equipment as well.
Simple Tub Storage Shelves
This classic storage idea is very easy to build and can significantly reduce the headache that comes with moving around storage tubs to find the one you need.
Build a three-level shelving unit measured to fit your larger tubs to keep in a corner of your garage.
Simply arrange your tubs in a row on each shelf with the labels facing the front. Instead of having to lift and move tubs around, you can now find your specific tub of items much easier.
Magnetic Storage Board
This DIY hack is very popular, and all it takes is a bit of metal and magnets.
Do your smaller lightweight tools just kind of sit in a pile in your garage? Take care of the unsightly mess and make it much easier to find specific tools with a large magnetic storage board.
Take large pieces of sheet metal and mount them anywhere in your garage that would make for easy access, like a wall or the side of a storage cabinet. We suggest using velcro to mount the sheet metal so it can be moved if necessary.
Glue (or velcro) one magnet to the handle of each tool.
You're done! Simply stick your lightweight tools to the board and you've got a handy easy-to-access tool board.
Start Organizing!
We hope these tips and ideas will help you get your garage under control. Every homeowner has had to deal with an out of hand garage at some point, and with these organization tips you'll be able to take care of it quickly and easily.
Do you have a storage tip for readers? We'd love to hear from you– leave us a comment!